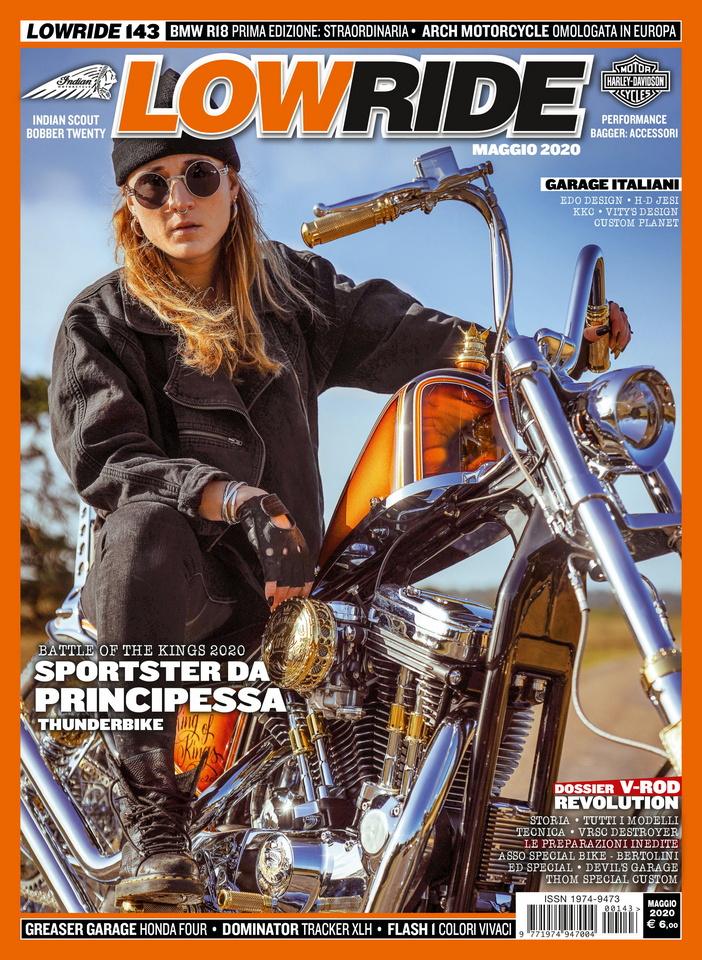 Anche questo numero di maggio è uscito puntuale e, beato lui, sta girando in tutta Italia senza autocertificazione. Ormai è in edicola dai primi del mese (se non lo trovate cliccate qui) ma per chi ancora non l'avesse trovato ecco i principali contenuti.
Sotto il nome di Arch Motorcycle si cela quello dell'attore Keanu Reeves, che ci presenta la sua KRGT-1, mentre il nipponico Sure Shot ci svela il suo kit cafe racer per Sportster e Lego Technic ci propone la Dodge Charger R/T di Fast and Furious. Un connubio indissolubile quello tra Ford e Harley-Davidson, entrambe nate nel 1903, che si esprime con il pick-up Ford F-250 Harley-Davidson realizzato da Tuscany Motor Co.
BMW Motorrad presenta la sua custom R18 First Edition, mentre W&W Cycles diversi dispositive di avviamento, elettrici o a pedale, Trackting il suo localizzatore per moto, Jets Motorcycles Forever un full custom in stile anni Novanta e Michelin le sue promozioni di primavera. Tra i tanti eventi cancellati, Sporty Meeting è uno dei pochi rimasti in calendario e ci auguriamo che potrà andare in scena sabato 20 giugno.
La moto di copertina è lo Sportster Iron 883 di Thunderbike, realizzato da Kim Bergeforth, figlia di Andreas, che ha concorso nella Battle of the Kings 2020. Divagazione in stille hillclimb è la Street 750 realizzata dall'officina britannica IDP Moto Limited, mentre sempre in tema H-D ecco il kit Screamin' Eagle Stage IV 131 da 2.166 cc e la collezione di accessori Endgame dedicata alle bagger.
Giungiamo finalmente al dossier sul modello Harley-Davidson più discusso del nuovo millennio: il V-Rod; la storia, i modelli e la tecnica del bicilindrico raffreddato a liquido. Seguono una serie di preparazioni nostrane, a opera di ED Special, Asso Special Bike, Bertolini Motorcycles, Devil's Garage e Custom Thom.
Incontriamo nell'officina friulana Number 8 la suicide girl Evanesco e subito dopo ci mettiamo in sella alla Indian Scout Bobber Twenty, prima di scoprire la customizzazione italiana di Race Point su base Scout Bobber. Dopo l'incontro con l'artista Flash 1 prosegue la rubrica Speciale Garage che ci porta nelle officine di Custom Planet, Edo Design, KKC Garage, Harley-Davidson Route 76 e Vity's Design, mentre la sezione Sprint dedicata a scrambler e cafe racer ci fa scoprire la tracker di Dominator Motorcycles su base Sportster XL 1200S e la Honda Hornet di Greaser Garage in versione CB Four.
La sezione Clubhouse si apre con la rubrica Area 57 curata da duecilindri blog che ci svela lo Sportster 1200R jap-style di Gaetano. A seguire gli HOG party per gli anniversari di Bologna Chapter e Firenze Chapter, il Totem Party di IBMC Ragusa, la Picari Fest, il Winter Party Boozefighters MC #92 e il tour del Marocco in 5 giorni con Altrimenti Viaggi.
Noi stiamo già lavorando al numero di giugno e ci auguriamo di ritrovarci presto in qualche raduno.
www.lowride.it/magazine.asp?IDmag=180
di Lorenzo Rinaldi © riproduzione riservata Low Ride Srl
© LOWRIDE | 13/05/2020