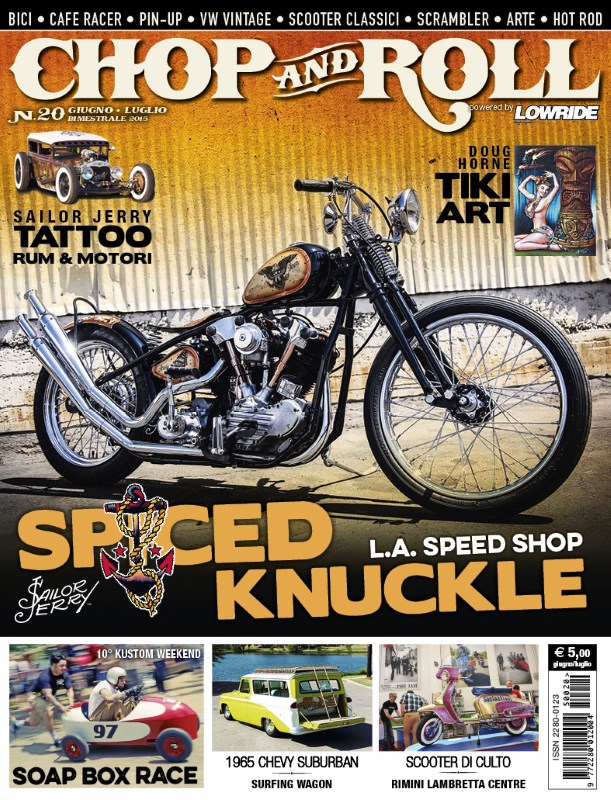 È già in edicola il numero 20 di Chop and Roll. La copertina è dedicata all'ampio dossier su Sailor Jerry, che questo week-end sarà celebrato anche con un block party a Milano. Al tattoo artist Norman Collins sono tributati un FL 1947 di L.A. Speed Shop, un hot rod del 1930, un Impala lowrider del 1962 e perfino una Vespa 200.
Rimanendo in tema di scooter classici ecco due altre Vespa: una PX 125 e una 150 di DBM Garage. Dedicati a Lambretta invece il servizio su Rimini Lambretta Centre e la seconda parte del dossier su Museo Scooter & Lambretta.
Spazio ai van con il Serial Kombi dragster e una Chevrolet Suburban del 1965 rivista nello stile Tiki. A questa forma d'arte è anche dedicato un servizio intero che parla di Doug Horne.
Tra gli eventi, American Day di Riccione e un'anteprima su Gran Ferro, di cui troverete ampio reportage sul numero 21; imperdibile il Kustom Weekend di Figline Valdarno. A seguire Sanremo Motor Bike Show e The Reunion a Monza.
Chop and Roll è stato anche a scuola di flat track con il maestro Marco Belli e la sua Di Traverso School. Infine la Yamaha XJR1300 Skullmonkee di Wrenchmonkees e lo SC-Rumble, interpretazione dello Scrambler Ducati di Vibrazioni Art Design.
Chop and Roll vi aspetta in edicola anche con le consuete rubriche dedicate alla musica, alle biciclette e alle pin-up.
© LOWRIDE | 09/06/2015