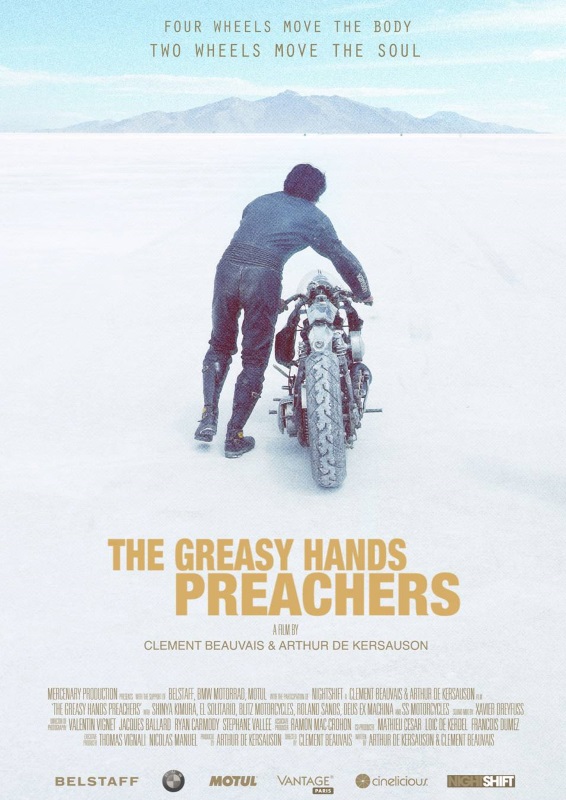 È stato presentato a settembre in occasione del San Sebastian film festival, il docu-film The Greasy Hands Preachers ma solo da pochi giorni è comparso anche sul web il suo trailer, mentre l'intero film di 90 minuti sarà proiettato in alcune sale selezionate, ci auguriamo anche in quelle italiane.
Il film è incentrato sulla scena new wave custom e vede protagonisti personaggi come Roland Sands, Shinya Kimura, El Solitario, Blitz Motorcycles e Deus. Prodotto da Arthur de Kersauson e diretto da Clément Beauvais di Mercenary Productions, già autori di Long Live The Kings, è stato girato in Super 16 in Francia, in America (in California e sul lago salato di Bonneville), sulle Highlands della Scozia, in Spagna e Indonesia e la firma di produttore esecutivo è quella dell'attore britannico Orlando Bloom.
The Greasy Hands Preachers celebra il lavoro dei customizer visto attraverso gli occhi di un gruppo di appassionati. È stato sponsorizzato da Belstaff, BMW Motorrad e Motul, utilizzando anche gli oltre 100.000 dollari provenienti da un'operazione di crowdfunding promossa dal sito kickstarter.com. In attesa di vederlo per intero gustatevi le immagini del fotografo Mike Valentine e l'anteprima su vimeo.
© LOWRIDE | 31/03/2015