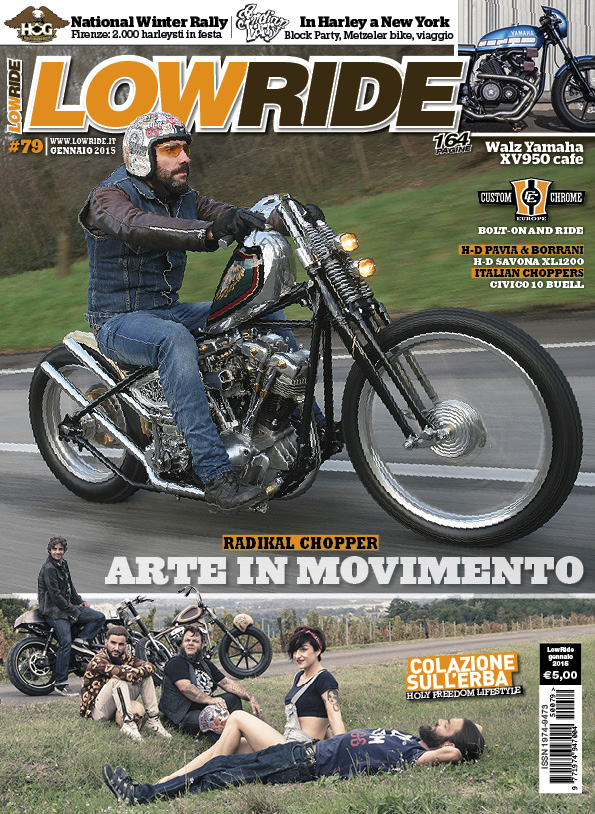 Da domani in edicola il numero 79 di LowRide. In copertina lo Shovel Sucker Punch di Radikal Chopper. All'interno come sempre 164 pagine ad alto contenuto di custom. Nelle prime pagine di news, il portiere del Milan Christian Abbiati posa accanto al suo Nightster messo all'asta per la Fondazione Sic, il trike Freewheeler di H-D, la bagger Road Glide 2015 di Rick's, H-D On the Road Napoli, Biker Saloon di Cremona e 06 Garage di Roma.
Si prosegue con un bel numero di moto, tutte rigorosamente "plastic free": Il Low Rider di Elena Righini, lo Shovel di Boccin, lo Sportster di H-D Savona, il Softail Slim di H-D Pavia, il bobber di Rocket Boy Garage, i due chopper Esmeralda e Bisca di Italian Choppers e la Buell di Civico 10.
Dall'estero invece le Bolt-On And Ride da Custom Chrome Europe che non risparmiano nessuna famiglia H-D: uno Sportster XL1200, un Dyna Street Bob, un Softail Slim, una Electra Police bagger e un Night Rod Special. Sempre dalla Germania, la XV950 Ratón Asesino di Walz.
E poi ancora la seconda puntata del reportage da New York, che include un esclusivo block party in compagnia dei customizer più affermati nel mondo. Sempre dagli USA, la storia delle decal e degli emblemi sui serbatoi H-D fino al 1978.
Rientrando in Italia, la storia di Alfredo e del suo Night Train recuperato dalla terribile alluvione che ha sconvolto Vernazza nel 2011, la moda di Holy Freedom, il reportage completo del National Winter Rally, del Sardinia Run e di molti altri eventi HOG, MC e free biker e, come di consueto, le rubriche mensili su raduni, tecnica, ecc.
Questo e molto altro nelle 164 pagine del numero di gennaio 2015, dove trovate anche tutte le indicazioni per iscrivere le vostre moto al Bike Show del prossimo Motor Bike Expo di Verona. Ricordate che avete tempo fino al 10 gennaio! Buone feste a tutti dalla redazione!
© LOWRIDE | 23/12/2014