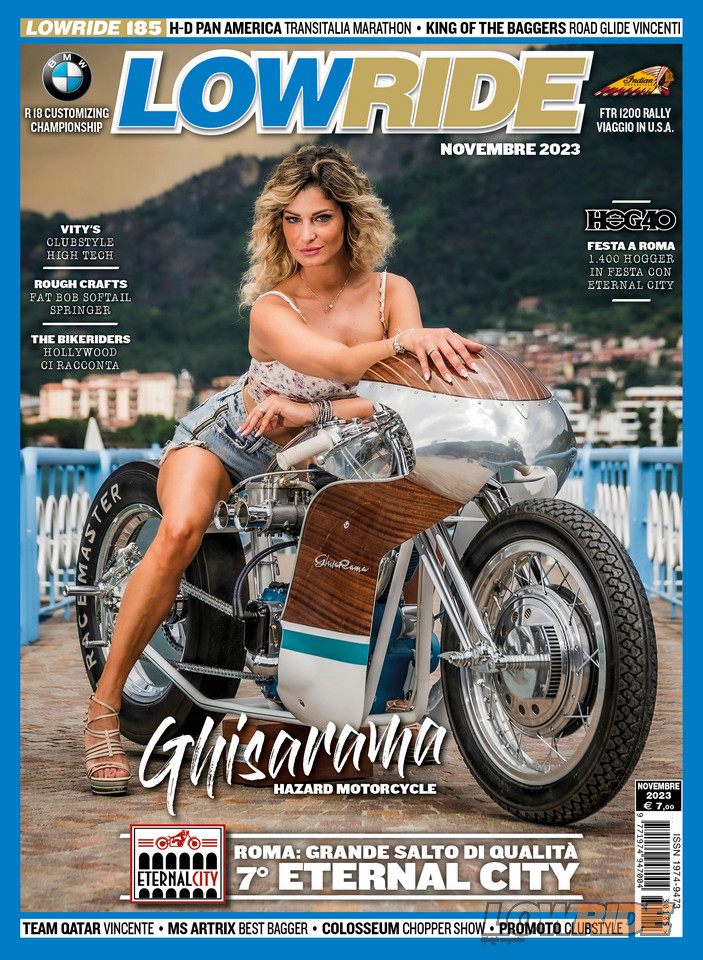 Il numero 185 di LowRide è arrivato in tutte le edicole già da un paio di settimane. In copertina la Ghisarama di Hazard Motorcycle, ispirata al motoscafo Riva Aquarama e vincitrice di numerosi bike show nel 2023, ultimo in ordine di tempo quello di Rombo di Tuono, di cui troverete il resoconto sul prossimo numero di dicembre.
Sempre su questo numero troverete un'anteprima del prossimo Hot Rod Custom Show a Yokohama, la finale del primo R 18 Customizing Championship di BMW a Berlino, Vity's Design, il viaggio di Ben Blake su Indian FTR 1200 Rally negli USA, il Low Rider S Police di Prism Supply, le finali del campionato King Of The Baggers, il Fat Bob springer di Rough Crafts, Harley-Davidson Pan America a Transitalia Marathon, la festa a Roma per i 40 anni di HOG, l'officina Motor Factory di Chioggia e molto altro ancora.
Inoltre il reportage completo dell'ultima edizione di Eternal City Motorcycle Show con tutte le moto vincitrici del bike show e il primo Colosseum Chopper Show. Di seguito trovate il sommario con tutti i contenuti.
NEWS
008 lifestyle: Skull Leather, made in Italy
010 news: The Bikeriders un film riscrive la storia
012 news: Buell Super Cruiser, prenotatissima
014 anteprima: Hot Rod Custom show a Yokohama
BMW MOTORRAD
016 evento: primo R 18 Customizing Championship a Berlino
ARTICOLI
024 copertina: Hazard Ghisarama, vero tributo al genio motoristico italiano
030 club style: Vity's Design innova nel billet
INDIAN MOTORCYCLE
032 viaggio: Ben Blake su FTR 1200 Rally negli USA
HARLEY-DAVIDSON
036 news: Prism Supply e un Low Rider S poliziesco
038 racing: King Of The Baggers, le finalissime
038 modified: Rough Crafts, Fat Bob springer
044 adventure: Transitalia Marathon su Pan America
046 evento: HOG40, è festa grande a Roma
ARTICOLI
050 evento: Eternal City Custom Motorcycle Show a Roma batte tutti i record
058 bike show: best of show, Top10, best Bagger, best Paint
070 contest: primissimo Colosseum Chopper Show
098 garage: Motorfactory a Chioggia, sulla laguna
CLUB HOUSE
102 rally: 25° Motoduck in provincia di Ferrara
104 Free Chapter: Conca Run, V45 Harley Group
106 HOG run: da Treviso in Francia e in Inghilterra
108 memory run: Bandidos MC Italy
110 area 57: due amici
112 club lounge: Indian Bikers MC South Italy
114 calendario
www.lowride.it/magazine.asp?IDmag=223
© LOWRIDE | 14/11/2023