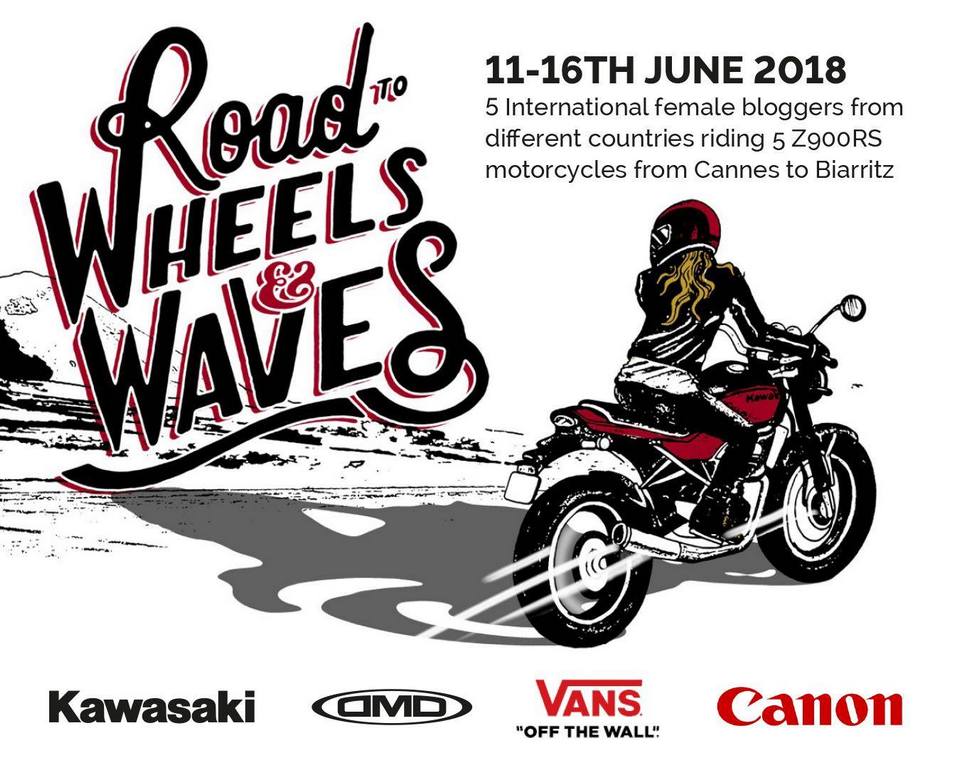 Da giovedì 14 a domenica 17 giugno si svolgerà la sesta edizione di Wheels and Waves a Biarritz. Il progetto "Road To Wheels & Waves" coinvolge cinque donne, blogger motocicliste, provenienti da tutta Europa, che partiranno insieme da Cannes lunedì 11 giugno per giungere a Biarritz.
Le cinque motocicliste coinvolte, in rappresentanza delle rispettive nazioni di appartenenza, sono Deimante Meilune (Tomboy_a_bit) dalla Gran Bretagna, Erica Valenti (The Throttle Dolls) dall'Australia, Adriana Pinto Martinez (Adrianapm3) dalla Spagna, l'italiana Francesca Lai (Frenchissima) e Camille de Villartay (Kissnvroom) dalla Francia.
Il viaggio da Cannes a Biarritz comprenderà alcune soste in posti meravigliosi come Saint Tropez, Montpellier, Narbonne e Tarbes e quando giungeranno a Biarritz avranno uno stand dedicato.
Il viaggio è stato reso possibile grazie alla collaborazione di diversi brand motociclistici, tra cui Kawasaki, che metterà a disposizione cinque Z900RS, e DMD Helmets per abbigliamento e caschi, ma anche Vans e Canon. Lo scopo è quello di unire le donne motocicliste promuovendo anche la parte femminile del motorcycle lifestyle.
Il viaggio sarà documentato sui canali social ufficiali del progetto, su facebook alla pagina Roadtoww, e su Instagram all'account @roadtoww.
www.facebook.com/roadtowheelsandwaves/
di Lorenzo Rinaldi © riproduzione riservata Low Ride Srl
© LOWRIDE | 07/06/2018